55′ 8 Sleeper Executive (Southern Belle)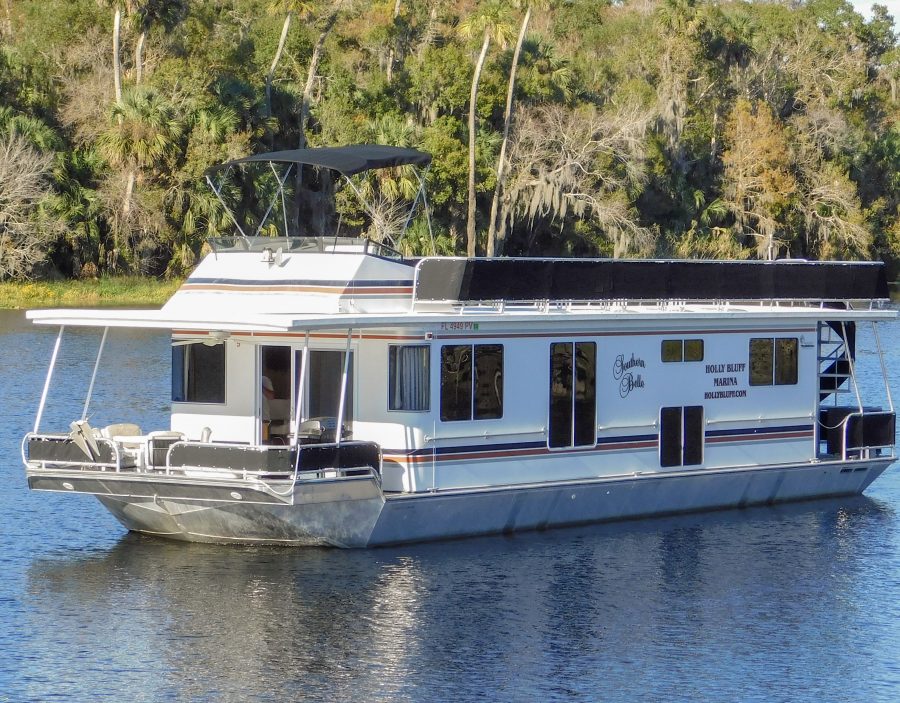 Description:
The main salon includes helm, large living room with flat screen TV, dining table with bench seating and chairs, plus a beautiful galley with ceramic tile flooring. Granite countertops, indirect lighting, crown molding, maple woodwork and raised panel colonial doors are just a few features of this luxury houseboat. The boat has three private staterooms including a spacious master stateroom with queen size bed and TV, center stateroom with full size bed and lower stateroom with queen size bed. With the full size futon in the main salon this boat can sleep up to eight people. The boat has two full baths. This boat is equipped with central air and heat. The front deck features a ceiling fan, propane gas grill, ice chest, table and four chairs. The large back deck has space for stowing water toys and a spiral staircase to access the top deck. There is a flybridge on the top deck so the boat can be driven from inside the boat or from up top. A small canopy top over the flybridge provides shading for the captain. The top deck also has loungers for sunbathing.
Floorplan:
Pricing:
| | | |
| --- | --- | --- |
| 55′ 8 SLEEPER EXECUTIVE Southern Belle | HIGH: March-Nov. | LOW: Dec-Feb |
| Weekend 1p.m. Fri – 4 p.m. Sunday | $2,500.00 | $2,400.00 |
| Mid Week 1 p.m. Mon – 4 p.m. Thurs. | $2,600.00 | $2,500.00 |
| Week Mon 1 p.m. – Sun 4 p.m. or Fri 1 p.m. – Thurs. 4 p.m. | $3,600.00 | $3,500.00 |
| | | |
| --- | --- | --- |
| 55′ 8 SLEEPER EXECUTIVE Southern Belle | HIGH: March-Nov. | LOW: Dec-Feb |
| Weekend: 1p.m. Fri – 4 p.m. Sunday | $2,500.00 | $2,400.00 |
| Mid Week: 1 p.m. Mon – 4 p.m. Thurs. | $2,600.00 | $2,500.00 |
| Week: Mon 1 p.m. – Sun 4 p.m. or Fri 1 p.m. – Thurs. 4 p.m. | $3,600.00 | $3,500.00 |
On-Board Inventory:
Main Salon:
Captain's chair
Full size futon
Dining table with 2 chairs and 2 benches
Storage Closets
Staterooms:
Master Stateroom: 1 queen bed
Center Cabin:  1 full bed
Lower Cabin: 1 queen bed
Bathrooms:
2 full bath with shower
Bathrooms includes one small trash bin
Galley Appliances:
4-top stove
Full size refrigerator/freezer
Microwave
Blender
Coffee Pot (12-cup)
Toaster
Kitchenware:
Dining service for 10 (dinner plates, side plates, soup bowls, coffee cups, 8 oz glasses, 4 oz glasses, wine glasses, forks, dinner knives, steak knives, teaspoons, tablespoons)
Pots & Pans (sauce pan w/lid, 3 qt w/lid, 8 qt w/lid, 8" omelet pan, 12" skillet, glass baking dish,  baking sheet)
Mixing Bowls
Measuring cup and measuring spoons
Serving spoons & spatulas, grill spatula and tongs
Colander
Butcher's Block with large kitchen knives & scissors
Can opener (manual)
Vegetable peeler
Cheese grater
Wine Opener
Dish rack / drainer
Ice Trays (2)
Ash tray
Matches
Kitchen includes one medium size trash bin
Linens (towels, blankets, etc.):
Bath towels: 16
Hand towels: 8
Wash clothes: 10
Blankets: 4
Sheets: One set per bed
Pillows & pillowcases: Two per bed
Cleaning Supplies:
One small bottle of Dawn dishwashing liquid
One new sponge
One new roll of paper towels
Two toilet brush
Broom and dust pan
Trash bags
Fly swatter
Exterior Amenities:
Front Deck includes one outdoor dining table with 4 chairs, one 32 gallon trash can and one 20 gallon recycle bin, one cooler and a propane gas grill with grill brush
Top Deck includes 4 lounge chairs
Electronics: 
Flat Screen TV with DVD Player
VHF Marine Radio
AM/FM Radio with CD Player and aux input
Heating & Cooling:
Safety:
Life jackets for up to 12 guests (Coast Guard maximum for rental boats in Florida)
One throwable PFD IV
CO Detector
Minimum of 2 fire extinguishers
Engine compartment Halon system
Docking/Anchoring:
Two Danforth style 22 lbs. anchors
Four dock lines
One 50 amp power cord
Mechanical Specifications:
8K Westerbeke Marine Generators
Volvo Penta Inboard/Outboard Engine with composite propeller
Potable Water / Black Water / Fuel Capacities (Gallons):
Potable Water Tank: 150
Waste Holding Tank: 150
Fuel Tank: 200
Mileage Specifications:
South Limit: Lake Monroe Bridge (approximately 20 miles)
North Limit: Silver Glen Springs in Lake George (approximately 30 miles)
Boats are not allowed to travel at night
Anyone Born After January 1, 1988 Must Take a Boating Safety Course
Click Here For Boating Safety Course
On ALL major holidays premium rates prevail.
Rental rates DO NOT include fuel OR Sales Tax.
A $500 security deposit is required for each houseboat reservation. This deposit is IN ADDITION to the rental rate and will be refunded when boat is returned reasonably clean and undamaged
Refunds, Cancellations, Reschedules: If you must cancel your reservation, notify us at least 30 days before your arrival date and your deposit will be refunded less a $150 cancellation fee. Cancellations received within 30 days of arrival are subject to total forfeiture of deposit. If you must reschedule your reservation, there is a $150 reschedule fee if the original arrival date is less than 30 days in advance of notification.