RCI
Holly Bluff has been an Award Winning Resort since 1996
Currently there are 6 timeshare boats at Holly Bluff Marina. Holly Bluff Marina is privately owned and manages these houseboats for
Grand Lakefront Resort Club
. GLRC exchanges with RCI. Contact GLRC or RCI direct to reserve.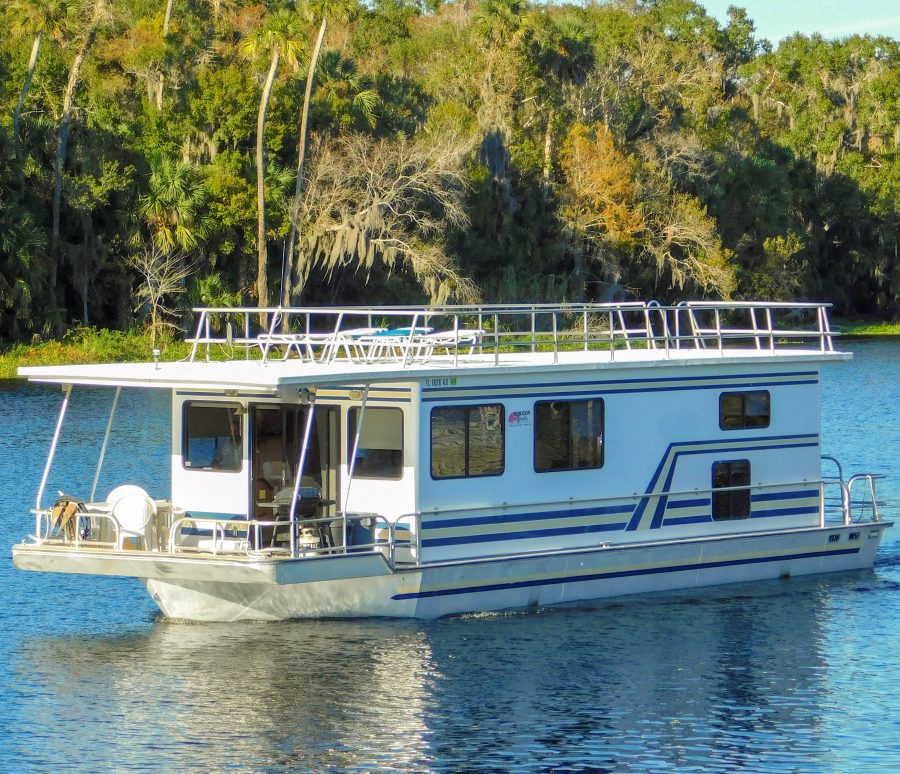 Upon making your reservation, you will receive information about our marina and the houseboat you will be boarding. Listed below are additional fees you will incur upon check-in:
There is a $900 non refundable user fee for the boat for the week which includes orientation and captain's lesson, sewage pump out, propane, inventory check and return inspection. This fee has become necessary in order to ensure the clubs viability for the future benefit of exchange users as well as club members.
GLRC carries insurance against general charter risks. Loss of inventory items and property of the Charterer, additional users and other parties are not covered by this insurance. Insurance maintained by GLRC does not absolve the Charterer for damage caused by the Charterer or those for whom the Charterer is responsible. The damage deposit is NOT insurance. The Charterer acknowledges and agrees that any and all damages incurred to the houseboat or any other houseboat and/or property, due to the Charterer's negligence in operating the houseboat according to standards and procedures outlined during the orientation, are solely the Charterers responsibility. The Charterer further acknowledges and agrees that the Charterer is solely responsible for any costs or damages in excess of the damage deposit, including but not limited to, parts, labor and towing, that are incurred due to such negligence. The negligence of the Charterer will be determined at the sole discretion of the Marina.
At check in, charterer will be given the choice of Option #1 or Option #2 as described below.
| | |
| --- | --- |
| Option #1: | A damage deposit of $600.00 per houseboat will be paid at the time of check-in and will be held until the boat is returned and inspected for damages. If there is no damage, $500.00 will be returned to the Charterer. |
| Option #2: | Charterer will be responsible for up to $1,500 in damages. Payment is due when boat is returned and has been inspected for damages. |
You are welcome to stay overnight at Holly Bluff anytime during your stay. At our marina your boat will be plugged into shore power and water. There is a $10 per night charge for utilities for each night you stay at our dock.
Houseboat Description
Houseboat size is 46′ X 14′. The main salon includes the helm and Captain's chair, futon and small flat screen TV, dining table and 4 chairs plus the galley and storage closet. The boat has two private staterooms with full size beds. With the full size futon in the main salon this boat comfortably sleeps six people. The boat has one full bath with shower. This boat is equipped with central air conditioning/heat. The front deck features a propane gas grill, ice chest, table and four chairs. The back deck has space for stowing kayaks and water toys. A ladder on the back deck allows access to the top deck. The top deck has loungers for sunbathing.
On-Board Inventory:
Main Salon:
Captain's chair
Full size futon
Dining table with 4 chairs
Storage Closets
Staterooms:
Master Stateroom: 1 full bed
Guest Stateroom:  1 full bed
Bathrooms:
1 full bath with shower
Bathroom includes one small trash bin
Galley Appliances:
4-top stove
Full size refrigerator/freezer
Microwave/Convection oven
Blender
Coffee Pot (12-cup)
Toaster
Kitchenware:
Dining service for 8 (dinner plates, side plates, soup bowls, coffee cups, 8 oz glasses, 4 oz glasses, wine glasses, forks, dinner knives, steak knives, teaspoons, tablespoons)
Pots & Pans (sauce pan w/lid, 3 qt w/lid, 8 qt w/lid, 8" omelet pan, 12" skillet, glass baking dish,  baking sheet)
Mixing Bowls
Measuring cup and measuring spoons
Serving spoons & spatulas, grill spatula and tongs
Colander
Butcher's Block with large kitchen knives & scissors
Can opener (manual)
Vegetable peeler
Cheese grater
Wine Opener
Dish rack / drainer
Tea Kettle
Ice Trays (2)
Ash tray
Matches
Kitchen includes one medium size trash bin
Linens (towels, blankets, etc.):
Bath towels: 12
Hand towels: 6
Wash clothes: 8
Blankets: 3
Sheets: One set per bed
Pillows & pillowcases: Two per bed
Cleaning Supplies:
One small bottle of Dawn dishwashing liquid
One Sponge
One new roll of paper towels
One toilet brush
Broom and dust pan
Trash bags
Fly swatter
Exterior Amenities:
Front Deck includes one outdoor dining table with 4 chairs, one 32 gallon trash can and one 20 gallon recycle bin, one cooler and a propane gas grill with grill brush
Top Deck includes 2 lounge chairs
Electronics: 
Flat Screen TV with DVD Player
VHF Marine Radio
AM/FM Radio with CD Player and aux input
Heating & Cooling:
Safety:
Life jackets for up to 12 guests (Coast Guard maximum for rental boats in Florida)
One throwable PFD IV
CO Detector
Minimum of 2 fire extinguishers
Engine compartment Halon system
Docking/Anchoring:
Two Danforth style 22 lbs. anchors
Four dock lines
One 50 amp power cord
Mechanical Specifications:
12K Westerbeke Marine Generators
Volvo Penta Inboard/Outboard Engine with composite propeller
Potable Water / Black Water / Fuel Capacities (Gallons):
Potable Water Tank: 150
Waste Holding Tank: 150
Fuel Tank: 112
Mileage Specifications:
South Limit: Lake Monroe Bridge (approximately 20 miles)
North Limit: Silver Glen Springs in Lake George (approximately 30 miles)
Boats are not allowed to travel at night
We do accept pets under 35 pounds for an additional charge of $15 per night. Maximum number of pets is two.
Linens are furnished onboard each houseboat. However, unlike a hotel, linens are not replaced on a daily basis. The linens onboard are for use during your entire stay. A coin laundry is on the premises should you need to do laundry during your stay.
Restroom facilities with handicap accessible shower are available twenty-four hours per day.
Visit the marina store for ice, sodas, chips, snacks, post cards, gifts, and various convenience items.
Several good restaurants are located within a few miles of the marina. We will provide you with a map at check in.
We accept Cash, Visa, MasterCard, Discover and American Express.